AWARDS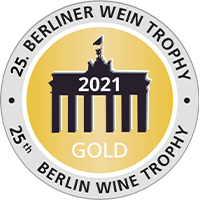 Berliner Wein Trophy 2021, gold
Concours Mondial de Bruxelles 2021, silver
HARVEST
Appellation of Origin: Vino de la Tierra de Castilla.
KIND
White wine. Verdejo variety. The grapes are from our new vineyards located between 800 y 900 meters in altitude.
VINIFICATION
The grapes are pressed protected with nitrogen. and macerated in cold to obtain better aromas.
Extraction of the must by static debourbage, racking the wine to stainless steel tanks to get the alcoholic fermentation with the addition of selected yeasts. The duration of the fermentation is 10 -15 days at a temperature of 15 ºC.
Racking and separation of the rests (lees). to avoid the malolactic acid fermentation in contact with the fine lees and daily batonage at a temperature of 10 ºC. provoking a soft ageing with the lees in stainless steel tanks, keeping the fermentation carbonic and without using barrels.
Fast clarification. filtering and stabilizing before the bottling. keeping the carbonic, and the varietal characteristics of its youth.
TASTING NOTES
Pale light yellow-greenish color. Fruity with citric and tropical hints. A fresh, balanced and crisp taste in the mouth with a light soft finish. Easy to drink to new consumers and youth adults.
TEMPERATURE
Optimal consumption and conservation temperature: 8 y 10 ºC / 46,4- 50 °F.
PAIRING
Ideal with tapas or to taste it alone, very cold.
Recommended with seafood, fish, vegetables, fruits and desserts.