AWARDS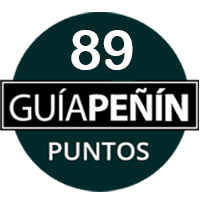 Guía Peñín 2020, 89 points
HARVEST
Appellation of Origin: Vino de la Tierra de Castilla.
KIND
Red wine aged in oak barrels.
VARIETY
Cabernet Sauvignon (100%), from our own vineyards. Vines are minimum 15 years old and are located at an altitude of 900 meters. obtaining low yield to ensure the high quality of the grapes 40 hl/ha.
VINIFICATION
The fermentation and maceration have a duration of 10 - 12 days in temperatures which are not higher than 25 ºC. to enhance the varietal characteristics of the Wine. After malolactic acid fermentation, the Wine is kept in French oak and American oak barrels for 12 months inside a climatized cave. to get a good ageing and roundness.
Clarification and filtering before bottling, with ageing of 3 - 6 months in bottle to get roundness and to keep the bouquet and characteristics of this Wine.
TASTING NOTES
Cherry red color. lt is fruity with spices and mineral hints as result of its aging in oak barrels. In the mouth it is soft and balanced, with round and ripe tannins. Long lasting tastes of ripe fruit. with balsamic and mineral notes.
TEMPERATURE
Optimal consumption and conservation temperature: 14 y 16 ºC / 57,2 - 60,8 ºF.
PAIRING
Perfect companion for all kind of vegetable. fish and meat meals.
Recommended with roasted meat. foie and all kind of cheese.