AWARDS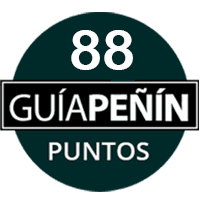 Guía Peñín 2020, 88 points
HARVEST
Appellation of Origin: Vino de la Tierra de Castilla.
KIND
Red wine fermented in American oak barrels.
VARIETY
Monastrell (100%). The grapes are harvested in our own vineyards, located at an altitude of 900 meters.
VINIFICATION
Grapes are pressed protected with nitrogen and macerated before fermentation in a cold temperature of 10 degrees Fahrenheit far two days, to obtain better aromas, color and tannins from the stum.
Selected yeasts addition far the alcoholic fermentation with controlled temperature between 20 -24 ºC. In the middle of the fermentation, it is made the extraction of the flower must by static drain, in order to get a final fermentation of the wine without pee Is, pips and other parts of the grape. This process is made in rotary and horizontal stainless-steel tanks, equipped with programmable mechanic high technology far selective maceration.
Racking and separation of the rests (lees), to make a malolactic acid fermentation with inoculation of selected yeast in new American oak barrels, where the Wine is aged for 12 months. Clarification, micro-filtering and cold bottling with nitrogen protection during all the process so as to keep the aromas and tastes.
TASTING NOTES
Red violet intense color. Aromas of ripe fruits and coconut hints. In the mouth it is soft, fresh, and balanced, with the right acidity.
TEMPERATURE
Optimal consumption and conservation temperature: 14 y 16 ºC / 57,2 -60,8 °F.
PAIRING
Ideal with soft meals of meat, pasta and vegetables. Due to its elegant fineness and varietal character, it is perfect for being tasted without food pairing.